Simply put, Arete means excellence in any capacity.
Who is Arete Hoops?
Hi, I wanted to take a minute to introduce myself.
My name is Quinn McDowell. Great to meet you!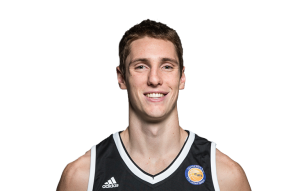 I started playing basketball around the age of 5 and have fallen in love with the game every since.
Basketball has taken me some crazy places. I spent 4 years at Archbishop Moeller High School (Cincinnati, OH), 4 years at the College of William and Mary, 1 season in the NBA D-League, 2 years as a professional in Australia, 1 year in Palencia, Spain, and one year in Riga, Latvia.
I think of basketball as so much more than a game, because it has influenced me in unique and profound ways as a person. The lessons I've learned about leadership, life, perseverance and character have shaped me in powerful ways.
Since I started to play professionally I have used my spare time to dive into the concepts of leadership and performance psychology to try and understand how I can become a better teammate and leader.
My Christian faith has a strong influence in my motivation and approach towards the game of basketball and although Arete Hoops is not explicitly a Christian site, the entire concept and methodology can be traced to that worldview.
The more I read, listen, and study the game of basketball and the concepts of leadership, the more I am convinced that the quality of leadership is directly correlated with the magnitude of our impact on those around us.
Regardless of you position as a coach, athlete, or parent, there is something significant at stake when it comes to how we approach the game of life.
What is Arete Hoops?
Arete Hoops exists to give the world transformational leaders by inspiring and developing athletes, coaches, and influencers.
It was founded with the intention of helping people of various ages, backgrounds, skill levels, and athletic goals pursue excellence in and through the game of Basketball.
I believe that athletics (and in particular, the game of Basketball) offers all of us an unparalleled opportunity to pursue our dreams, to mature as people, and ultimately to grow in understanding of ourselves and the people around us.
In a world that prioritizes quick fixes and shortcuts, I advocate a slightly different approach.
I believe that each person has the ability and responsibility to pursue excellence in everything they do. Striving for excellence is a day-to-day process. Each morning we get out of bed we will make a series of decisions in how we choose to live our lives…
The sum of these decisions comprise a large part of the of person we choose to become.
We are all undeniably affected by watching and observing the people around us. We learn what work ethic, virtue, and excellence look like by watching the people closest to us.
I hope to help give you the tools and resources to pursue excellence through the game of basketball. Ultimately, basketball can serve as a guide that will help you in your journey of discovering what it looks like to exhibit excellence in life.
More from Arete Hoops
I am passionate about giving the world transformational leaders by inspiring and developing coaches, athletes, and influencers.
Here are some more ways to connect with Arete Hoops:
•Leadership Articles and Team Content
•Get weekly Leadership Content from our Newsletter
Tweet at us – @AreteHoops
Facebook us – Arete Hoops