Ball-Handling and the Complete Player
Great basketball players are always comfortable with the ball in their hands.They are in complete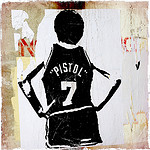 control of the basketball at all times and have the ability to make the right play at the right time. Ultimately, you must become a great decision maker to become a great player.
Learning how to make the right read within an offense, understanding when to shoot or drive the ball, and knowing where to get the ball on the court requires a mastery of the basketball. It is difficult to make the the right play at the right time when you are constantly losing control of the basketball.
The term "ball-handling" implies more than just being able to dribble the basketball: great ball-handlers automatically become better passers, shooters, and rebounders because they are comfortable with the basketball in any situation.
What defines a GREAT Ball-Handler? 
Good Ball-Handlers…
Can make the right pass but will often throw the pass in a place that is difficult to handle
 Have to look down at the ball when they dribble
Have average court awareness because they are thinking about controlling the ball instead of the next play
Practice conventional dribbling drills and fail to use their imaginations in order to improve
Maintain about a 1-1 assist/turnover ratio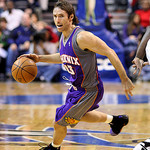 Great Ball-Handlers…
Don't have to look down at the basketball when dribbling.
Dribble the ball without thinking about controlling it
Are able to control the ball in tight spaces.
Are always looking to make the right play for their team.
Always have more assists than turnovers.
Do you have what it takes to become a GREAT Ball-Handler???
Arete Hoops wants to help get you there.
Ball-Handling Sections…
Below are a brief summary of the ball-handling sections on the site. Each section is designed to meet the specific needs and ability levels of players everywhere.
In this section you will find…
An explanation of dribbling technique

Practical advice and drills you can use to improve your "handles"
Practice techniques that anyone can learn
In this section you will find…
High-level ball handling and dribbling drills

Tennis ball and multiple ball dribbling drills
Advanced court movements that will push you to improve