The Brilliance of Tom Izzo
"I knew what I knew when we were a 7 seed and we were struggling a little bit. I knew what I knew now [that we've made it to the Final Four]. We weren't as bad as they thought when we were there. And we're not as good as they think now. I don't worry about those things. Twitter has caused it where those things are so second to second. The only problem I have is making sure my kids don't believe whatever they say, because they either think they're too damn good or they're too damn bad. I don't like it either way."
– Tom Izzo
(on his team after they made the Final Four)
---
The Master of March 
Tom Izzo is without question the greatest March Madness coach in the history of college basketball.
Here's why:
Recently Fivethirtyeight broke down the number of wins that every college coach has won in comparison to what their were seeded. The higher the seed, the more games they were expected to win.
According to Michigan State's seeding over the years they were expected to win 30.2 games in the tournament. But Izzo has exceeded that number by winning a staggering 46.4 tournament games, a difference of 16.2. The next highest differential in tournament games won verse expected wins is Rick Pitino at 11.9.
Izzo just clinched his 7th trip to the Final Four which ties him with Rick Pitino and Roy Williams. That group only trails the likes of Coach K, Dean Smith, and John Wooden for most trips to the Final Four.
Izzo rarely gets the same amount of big-time recruits that programs like Kentucky and Duke get, yet he is still successful in March year after year.
How does he do it?
Here are 4 specific principles that makes Izzo successful.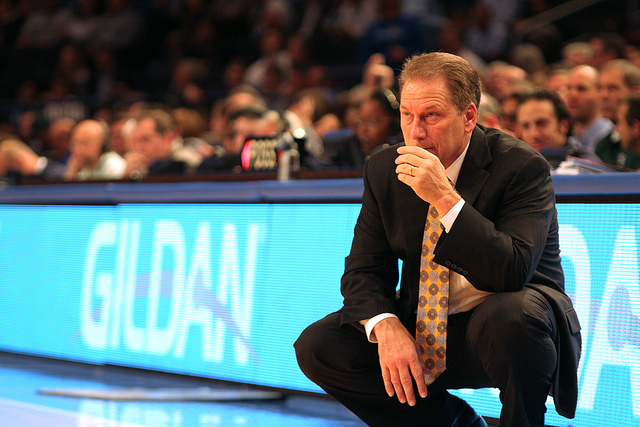 ---
1. He Prioritises the Process 
Izzo was recently on a nationally syndicated radio program and was asked about his team's consistent greatness when it comes to playing in March. What he said might surprise you. He didn't talk about "peaking at the right time" but rather about how to team approaches the beginning of the season.
A lot of high profile teams will play a cupcake schedule at the beginning of the year to inflate their record as they head into conference play. The Spartans do the exact opposite. Their athletic director signs them up for some of the most "out of the box"/challenging environments that a team can face. Just in the past few years, the Spartans have traveled overseas, played on a aircraft carrier, and constantly are challenging the best teams in the country at the start of the season.
As a result of this strategy the Spartans usually take a couple of losses early in the season; of all the Final Fours they've made the Spartans are always the team with the most losses. If Izzo was worried about his record, he wouldn't sign his teams up for these games. Instead Izzo cares deeply about the process his team needs to go through to reach their potential.
The regular season is the time for the team to grow and mature so that they build a foundation for post-season play. Tournament games are often decided by a few points, and the compeition that Izzo subjects his team to during the regular season, allows them to play with confidence in March.
Izzo knows that even if they take some lumps early, the long-term benefits will outweigh the early losses. Ultimately, those experiences will galvanise his players for the ultimate test in March. Often his teams get knocked down and suffer in the national rankings, but in the end they learn what it takes to compete against the best, and when March rolls around Tom Izzo's teams are better prepared than anybody for the difficult road ahead.
 
2. He Preaches and Lives a Model of Accountability 
At the beginning of every season Izzo has all of his players write down their personal goals and team goals on an index card. He then keeps all of these index cards in his office during the season. If there ever comes a time when a player's actions are failing to live up to the standards that will help them reach their goals, Izzo will bring out the card and have a conversation with them. The accountability is a two way street: the players set the standard initially and Izzo makes sure they live up to those standards. This exercise creates an atmosphere of accountability which everyone is forced to be a part of.
3. He is Brutally Realistic
In the quote at the beginning of the email Izzo talks about living in that space between arrogance (thinking you are better than you are) and self-deprication (thinking you are worse than you are). When you can take a realistic approach to objectively assessing your team then you can do two things well. First, you can play to your teams strengths and learn to hide their weaknesses. Second, you can find ways to improve on the areas you need to get better in. 
4. He gets Seniors to Buyin to the Team
During the middle of this season Izzo decided to pull Travis Trice one of his senior guards from the starting lineup. When asked about how he communicated the change this is what he had to say:
"That was really a concern. I have a good relationship with my player. I called him and I told him. I didn't surprise him. I didn't say you're not starting because you played like … even though he had a couple games like that. I called his dad and let him know what was going on. If there was an elephant in the room, I'm going to address the elephant and that kind of saves you in situations like this. I told him that. 
Izzo was straightforward and honest with his communication which allowed Trice to respect him through the process (even if he didn't like or agree with the decision). Trice bought into the decision and the Spartans have made yet another improbably run to the Final Four.
---
Application: Lead like Izzo
Here are four practical suggestions for you to consider as you think about ways to help your team grow:
1. The Golden Rule of "Process as Priority"
Use the golden rule of "process as priority" as a grid through which you make all major decisions for your ball club. Coaches have a lot of decisions to make when it comes to they team and often they have no grid on which to run their decisions through. Every decision you make should align with the "process as priority" slogan. Don't get caught up making decisions based on short term outcomes. Do what's best for your team in the long run.
2. Live in the Space between Reality and Self-Deprication
Communicate with your team in a way that highlights the reality of a situation while never becoming self-deprecating. For example, if your team struggles with taking charges you could track how many charges you take in practice and post those numbers after practice with some kind of incentive to reinforce that behavior. You wouldn't want to just yell and scream at your team to "do it better" you have to find a way to communicate the truth and a need for growth without making it personal. 
3. Create Systems of Accountability
Just as Izzo has every one of his player write down their goals before the season, find a way to encourage buy-in from everyone on the team. Draft a team mission statement, create a team crest or slogan, print up quotes and hang them around the locker room, etc etc. Find a way to create an environment of accountability so that everyone feels a part of something bigger than themselves.