Communication is the lifeblood of every team; and teams are filled with individuals who must come together to achieve their common goals. Coaches must learn to communicate to their players effectively and just as players must learn to communicate in a respectful way with their coaches. It is the coach's job to set the precedent for how communication will operate within the team context. Part of their job is to nurture relationships and foster quality communication. In short, the Golden Rule of Coaching Communication is this: All great communication happens first-hand, with honesty, and in the context of a relationship.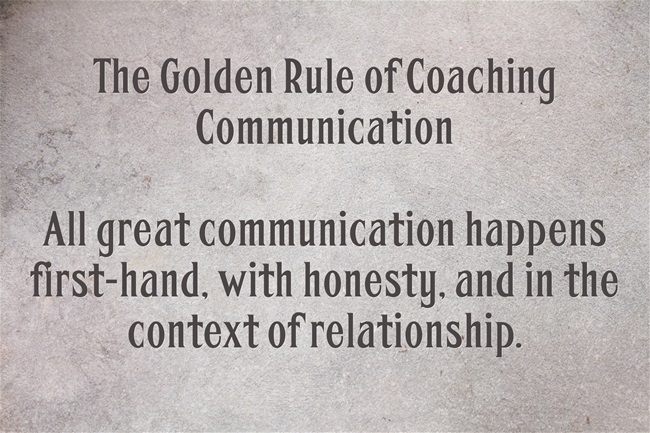 Honesty
Honesty is the most important aspect of great coaching communication. If your players have trouble believing the validity of what you say, it will be that much harder for them to take ownership of your system. Honest communication is at the heart of creating healthy relationships and developing team chemistry. When coaches communicate poorly or dishonestly, they inhibit team growth, and create barriers between themselves and their player. However, when coaches communicate well they help they become a catalyst for team development.
When players believe that a coach is being straightforward with them, a relationship of trust will begin to grow. But if players feel deceived, doubts about the trustworthiness of their coach will start to creep in. Regardless of the topic of communication – even difficult topic like playing time, role on team, personal development, etc – must always be handled truthfully so that a spirit of hypocrisy does not take hold. A precedent must be set that difficult conversations are not something to be avoided, but embraced. Although awkward at first, in the long run the fruit of these honest conversations creates a healthy respect between all parties involved.
Relationship
One of the most neglected aspects of great communication is the power of relationship. Many coaches fail to leverage the incredible access they have into their players lives by making a concerted effort to develop a relationship with them.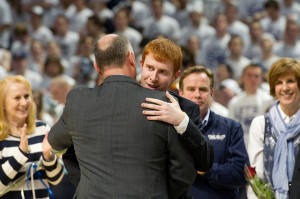 The countless hours of practice, film study, and team activities are prime opportunities for a coach to take an interest in his/her players lives beyond basketball. As a coach learns the interests, problems, and circumstances of their players lives, their credibility grows and a relationship develops.
Anytime a player feels like a coach genuinely has their best interest in mind, communication about difficult topics becomes much easier. When a coach has made an concerted effort to show interest in a player, they have earned relational equity that makes the communication process much easier and smoother. It almost goes without saying that, all great communication takes place face-to-face. Digital technology is incredibly useful for certain types of communication, but first-hand communication has the amazing power of personal presence. Body language, tone of voice, and facial expressions give first-hand communication valuable context that other types of communication does not.
Recap
Honest communication builds chemistry and creates trust

Relationships are key to great communication

Coaches gain credibility by investing in their players off the court

Communication is the lifeblood of any team!