The Duncan Way
"I just hope to make a difference." 
– Tim Duncan (rookie year)
Tim Duncan was a 3-time NCAA Collegiate All American and Naismith Player of the Year at Wake Forest. He was selected with the 1st overall pick in the 1997 NBA draft and made the All-Defensive Team, All-Rookie Team, and All-NBA team in his ROOKIE season as a professional. Over the course of his 17-year NBA career he has been selected to the All-Defensive Team 14-times (10 first-team and 4 second-team), the All-NBA Team 14-times (10 first-team, 3 second-team, and 1 third-team); 3-times he was awarded the NBA Finals MVP and twice the NBA Regular Season MVP.***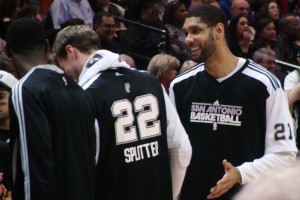 He has maintained averages of 19.9pts/11reb/3.1ast/2.2blks while ranking 6th all time in total "win shares" (the estimated number of wins a particular player contributes to their team) and 2nd all time in defensive win shares.
What happens when a 'Tim Duncan' caliber player embraces servant leadership? What are the possibilities when your best player leverages their talent for the good of the team? What transpires when your best player's leadership style is characterized by humility, tenacity, flexibility, and selflessness?
When the "Tim Duncan" of your team decides to use his/her ability for the common good of those around them, the results are nothing short of incredible. Words like longevity, durability, and sustained excellence only scratch the surface of the overwhelming impact Duncan has had with the Spurs organization over the past 17 seasons. In his 17 years with the Spurs he has led the team to a ridiculous 17 consecutive seasons with 50 wins or more – in no season did they win less than 61% of their games. On average Spurs have won 70% of their games since Duncan joined the squad; and in 6 of those seasons the Spurs made it to the NBA Finals, taking home the Larry O'Brien trophy 5 out of 6 times.
Duncan was an integral part in 8 out of 10 of the highest win totals franchise history and their 1999 team was only 1 out of 10 in history to finish the NBA season with less than 20 losses. His incredible longevity has allowed him to win an NBA championship in 3 different decades.
Duncan set out to make a difference. He made that difference in profound ways when he chose to use his abilities to illuminate the talents of those around him. His flexible leadership style allowed him to adapt to a changing league and the changing needs of his team. The bedrock of his leadership style has always been founded on a simple question: what can I do to make those around me better? Throughout the years
Duncan was the catalyst of the Spurs extraordinary run of excellence; he set the speed and tone for one of the most successful sports organizations of the last 25 years. Duncan will be remembered as one of the greatest players in his position because of his leadership and commitment to excellence. He made a positive difference on those around him, will you?
*** All stats and figures taken from basketball-reference.com unless otherwise noted