Whew…I can't believe it has been over a month since I have written.
It has been way too long!
The last few months of my life has been filled with twists, turns and unexpected curveballs. But before I get into the story, I want to reiterate how passionate and committed I am to the core mission of Arete Hoops.
 Arete Hoops exists to build transformational leaders by inspiring   and developing athletes, leaders, and influencers.
This is not only the mission of Arete Hoops, but this purpose resonates strongly with me personally. There is not a lot of separation between the two.
Simply put, Arete Hoops was created to help you thrive as a leader.
We exist so you can have a transformational impact on your team.
We exist because we believe basketball is about more than scoring points or winning games.
We exist because change happens when people decide to make a difference in their world.
In some ways I feel guilty because I made the commitment at the start of the year to send you exclusive leadership content every week for a year!
I apologize for already failing to uphold my end of the bargain
But…
Are you Serious about Leadership? So are we. Join the Family.
There's a good reason (which I promise I'll get too in about 2 sentences)!
When you get thrown into life's swirling tornado of chaos, sometimes all you can do is hold on and hope that you come out stronger on the other side.
The Tornado
For those of you who don't know, I play basketball for a living.
Since I graduated four years ago from the College of William and Mary I've played two years "down under" in Perth, Australia, one year in Palencia, Spain (not to be confused with the much more popular city of Valencia; Palencia is a small city of about 50k people a few hours north of Madrid), and most recently I started my fourth season in Riga, Latvia.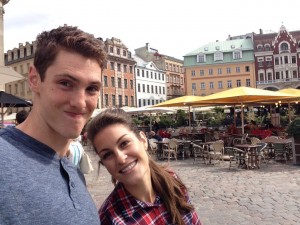 About half way through this past season in Latvia (home to THIS guy) we took a 6 hour flight to Siberia, Russia (yes THAT Siberia) for a league game against Einsey, the game was not going well, we were getting killed.
When I re-entered the game in the fourth quarter (already down 30) I took off for a fast break down the floor at full speed and planted my right foot to take off for a layup when I heard a loud pop coming from my right knee.
I knew immediately…
it wasn't good.
Fast forward three and a half weeks later and I had surgery to repair my torn ACL and lateral meniscus. Our plan was to finish out the rest of the season in Riga so that I could get a jump start on my rehab while we prepared for the newest addition to our family (a baby boy due in April)!!!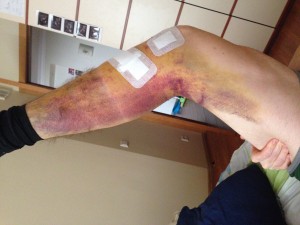 The surgery went as expected, but 10 days after surgery I was experiencing strong headaches, lack of energy, frequent bouts of nausea, and sensitivity to light. I would find myself taking three hour naps in the middle of the day for no reason! I wasn't feeling right.
Finally, my wife started Googling my symptoms (which doctors say you should never do, but sometimes when you're in Latvia you have no choice!!!) which perfectly matched up with what doctors call a "spinal fluid leak".
The anasthesiologist had inadvertently caused a spinal fluid leak when she gave me the anesthetic for my surgery. For those of you who follow the NBA, this is the same condition that kept Steve Kerr away from the Golden State Warriors for several months at the beginning of this NBA season.
The following days were a whirlwind of trying to "navigate the Latvian healthcare system" (an interesting endeavor) which proved challenging to say the least. On top of all this, I was still on crutches from my surgery and my primary caretaker was 33 weeks pregnant!
Thankfully I received a blood patch which helped get me on the path to recovery, but by that time we were exhausted from the struggle and made the decision to come back to the United States early. Once we got back stateside, we were in a race to find doctors, buy health insurance, and get reacquainted with our new lives.
Although this past season in Latvia was undoubtedly the toughest season I've experienced as a professional, I'd like to share a few of the personal things that I've learned through this experience.
This is somewhat different from past posts in that this is a much more personal description of how I've been stretched in the last several months.
But I hope that whenever you find yourself in a midst of life's storms that you can draw strength from these truths – or even better, that you might be able to help someone else in their time of need.
Lessons Learned
We are Never in Control
Man was the last few months a humbling experience! I have always prided myself on being a fairly responsible, competent person who has the ability to solve problems and navigate difficult situations.
But here's the thing I've learned…
You never realize how little control we actually have until life knocks you out!
I believe that as much as we try to control every aspect of our lives, we forget how unpredictable life can be.
This experience has helped me to swallow my pride and come to a place where I am able to adapt more quickly, and be more flexible in all aspects of life. Personally, my christian faith has helped me give control over the circumstances of my life and avoid the temptation to believe that I have life figured out!
When we come to grips with the reality that there are certain parts of life that are out of our control we are able to adopt a healthy mindset that focuses on controlling what we can and leaving the results to take care of themselves.
Humility becomes our default posture and pride has to take a back seat.
The People that Know You Best
Everyone needs someone that knows them really well.
like really knows you…
When I was feeling poorly after surgery, I thought my body was still trying to adjust to the trauma of my knee injury and the cocktail of pain medications.
Luckily, my wife knew me better than I knew myself!
She knows my tendencies, habits, and life-patterns inside and out. She was the first one that thought there might be something wrong. She was the first one to recognize that there was something out of the ordinary.
We all need people like this.
We need people who are able to recognize when you're not acting like yourself. We need people to come alongside us and support us through the times when we can't support ourselves. We need people that can get below the exterior and understand what makes us tick.
I believe people like this are our built in safety net. Make sure you have people around you that believe in you and know you well enough to recognize when you need help.
Be, Thankful
The old saying holds true,
 you never know what you've got until its gone
The single thing that I learned to be most thankful for was a sound mind.
After my surgery I didn't feel like doing anything! I didn't feel like reading, writing, interacting with people, or anything else I do on a day to day basis. It was really tough when my physical issues affected my mental faculties. I had lost all motivation, and the things that I was normally passionate about had dissipated.
On top of all that I was on crutches for four weeks after surgery which only added to my feelings of helplessness! I could't feed, drive, walk, or do anything for myself for nearly a month.
More than ever I am thankful for the ability to think clearly. I am thankful for the ability to walk. I am thankful for the ability to get up in the morning and make myself breakfast!
Thankfulness allows you to remain humble. Humility helps keep life in perspective. And people with good perspective learn to keep first things first. They know what things to keep front and center and what things to save for later.
These are the kinds of transformational leaders that have a massive impact on the people around them.
---
Thanks for reading.
Here are some more ways to connect with Arete Hoops
Tweet at us – @AreteHoops
Facebook us – Arete Hoops